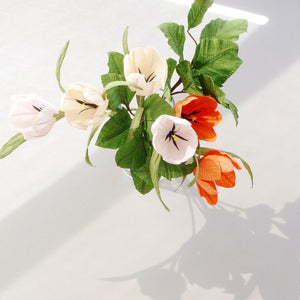 The Unwilted Story
At Unwilted, we specialize in the delicate art of botanical paper arrangement.
Each petal and leaf is meticulously hand-cut from Italian crepe paper, painted, shaped and constructed to achieve a realistic, yet artistic look and feel. When you give Unwilted paper arrangements, you're giving art.
Our artists design and craft realistic yet distinctly-paper arrangements that enliven a variety of indoor environments. Each petal, leaf, and stem is painstakingly cut from artisanal Italian crepe paper and assembled by hand, no two alike.
A Lasting Impression
We love receiving flowers, but we hate to see them go. A symbol of love and appreciation should not be so fleeting. An Unwilted bouquet is designed to last, just as your love and gratitude do.
Meet Our Floral Designer
Liz grew up in Michigan playing in the garden under the watchful eye of her master gardener grandmother. A naturally creative child, Liz loved painting and drawing. She found her true artist's medium in fresh flowers after owning a Colorado flower shop for 10 years, designing events, weddings, and celebrations along with daily deliveries to homes, restaurants, and offices.
Family drew her back to the mitten, and now Liz uses her background in floral design and her artistic eye to design life-like paper flowers and botanicals. Her paper flowers have been featured in Brides, Florists Review, Green Wedding Shoes and Metro Detroit Weddings.
Beauty in Details
Our botanical interpretations mimic natural forms, but a closer inspection reveals the true ingenuity of our art: subtle folds, crinkles, cuts, and creases combine with modern colors to produce stunning blooms that stand on their own. Our arrangements are mastercrafted with stunning detail you'll have to see to believe.
An Unwilted Earth
Flowers are a gift from Mother Earth, but today's industrial agricultural system is a plight on her. 82% of flowers in the US are imported with millions of tons of carbon released during transportation and farming. As fresh flowers sit in our homes, they decompose, releasing even more carbon. Unwilted arrangements never die. Our paper is FSC-certified sustainably-sourced, dyed with non-toxic ink and we avoid plastic in our production and packaging.